Vietnamese people have more habit of buying on social networks than e-commerce sites. However, the payment for buying, selling and exchanging goods on social networks is still very primitive.
Tiki, Lazada, Shopee, … only account for 40% of total e-commerce transactions in Vietnam
This information has just been shared at the signing ceremony of cooperation between NextTech technology corporation in Vietnam and the company providing VISA payment services. This is an agreement to promote digital payments on social media.
According to technology expert Nguyen Hoa Binh, Vietnamese consumers tend to buy goods based on temporary emotions. Therefore, Vietnam has become a fertile land for e-commerce development.
VISA and Nexttech have just signed a cooperation on providing services that allow users to make online payments right on social networks. Photo: Trong Dat
However, there is a distinctive feature in the Vietnamese market, that the number of sellers who are not officially listed on social networking platforms is very large. The four main items sold on social networking sites are functional foods, cosmetics, fashion and home appliances.
Vietnamese people use the Internet for an average of 7 hours a day, mainly through smartphones. The main purpose of using the Internet of Vietnamese people is to access social networks. This leads to social media becoming one of the most effective sales channels today.
Based on his statistics, this expert said that e-commerce platforms currently account for only 40% of all online transactions in Vietnam. The remaining 60% of total transactions belong to individual accounts, fanpages and groups on social networks.
This leads to the fact that the payment for buying, selling and exchanging goods on social networks in Vietnam is still very primitive, mainly through the form of COD (receiving goods – paying), Mr. Binh said. .
Developing digital payments on social networks will promote e-commerce
In markets such as China, Thailand and Indonesia, the form of payment via COD accounts for a very low proportion, less than 40% of e-commerce transactions. Meanwhile, according to Mr. Nguyen Hoa Binh, about 90% of transactions via social networks in Vietnam today are done through the form of COD, only the remaining 10% are done through wire transfer.
In Vietnam, carriers are almost free of COD service. Many logistic businesses consider COD payment as a value-added service when shipping, while in other markets, COD fees account for about 3% of the order value.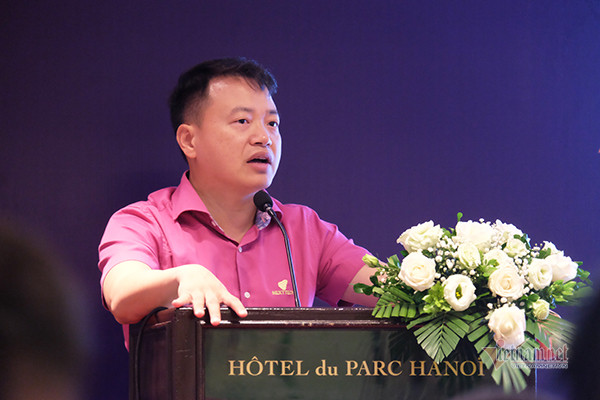 Technology expert Nguyen Hoa Binh. Photo: Trong Dat
The form of payment via COD service has a weakness: the number of customers who drop orders is high and the turnaround time is slow. The refund rate of this type is about 8-10%, especially, some products and services have a refund rate of up to 25-30%.
The cause of this situation is because Vietnamese users often change their buying decisions due to the emotional closing of orders. In addition, the reasons for the high refund rate when buying online are also because the buyer runs out of money at the time of receiving the goods, the shiper cannot call the buyer or the buyer does not accept it.
From here, it can be seen that the responsibility in placing orders in the form of delivery – receive money (COD) is very low. This fact causes great damage to individuals and businesses because of the losses in marketing costs and revenue opportunities.
According to Mr. Nguyen Hoa Binh, the development of digital payment tools in the social network environment will help businesses quickly close orders, reduce the return rate, thereby promoting the development of e-commerce.
Trong Dat
.