The test speed of 5G network at Hoan Kiem Lake is currently at 300-600 Mbps. Under standard conditions, 5G networks are testing for speeds up to 1.2 Gbps.
The numbers speak when testing 5G
On December 19, VinaPhone will officially put the 5G service into trial implementation in Hanoi. Up to now, the preparation of this carrier has basically been completed.
As noted by Pv. VietNamNet, when testing with VinaPhone 5G network in Hoan Kiem area, the speed of 5G network here is quite high, many times higher than 4G network.
Pv. VietNamNet has tested the VinaPhone 5G speed at 3 locations: the experience showroom on Dinh Tien Hoang Street, Ly Thai To monument and Ngoc Son temple area.
The results showed that, at the experience showroom, the download speed of 5G downlink (download) was measured up to 1.3Gbps. Meanwhile, when conducting tests in other areas, 5G speeds are currently only between 300-600 Mbps. At this speed, users will take about 20 seconds to download an application with a capacity of 600 MB.
The trial speed of VinaPhone's 5G network at Ly Thai To monument area is 400-500 Mbps. Photo: Trong Dat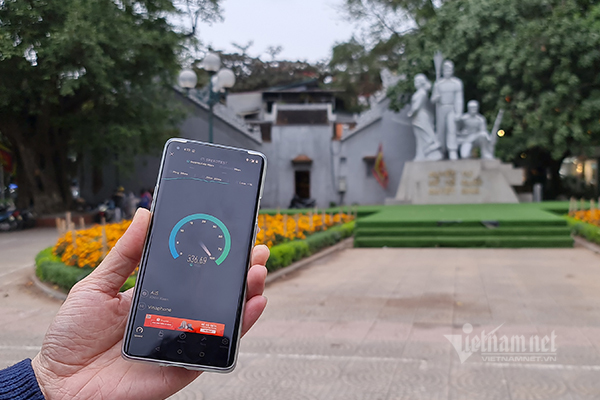 In the Ngoc Son temple area, the 5G network was tested for speeds of about 400 Mbps. Photo: Trong Dat
According to statistics from the Internet Quality Measurement System of Vietnam Internet Network Information Center, the average download speed of mobile network in Vietnam in November was 34.64 Mbps. Thus, the experimental 5G speed in Hanoi is now 10-20 times higher than the normal mobile Internet access speed.
With the uplink (upload) speed, in showrooms, 5G upload speeds are currently recorded at 90-95 Mbps. When in reality, VinaPhone 5G network gives upload speeds in the range of 30-60 Mbps. 5G upload speed is only slightly better (1.5-3 times) than 4G.
Through practical experience, the difference between download and upload speeds on the 5G test network in Hanoi is currently 5-7 times. This figure is much higher than the difference of about 1.5 times in the current 4G network.
Why is there a large result difference when testing 5G networks?
The reason for the quite large fluctuation range in the 5G network testing areas, said Hung – a technician who is deploying the 5G network of VNPT, the reason for this difference is because in the display area, users get to experience 5G mobile network in standard conditions.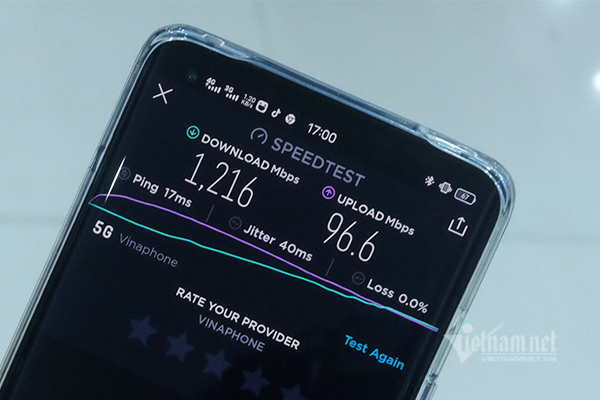 At VinaPhone's test showroom on Dinh Tien Hoang Street (Hanoi), 5G network speed recorded at 1.2 Gbps. Photo: Trong Dat
In the actual environment, obstacles such as blocks and trees will obstruct the wave's path and directly affect 5G network speed. The actual 5G speed is always much lower than in the lab. However, since it is only a commercial test, this is not the 5G speed when it is officially commercialized.
The big difference between download and upload speeds on a 5G network is because the carrier is prioritizing bandwidth for download speeds on the 5G test network.
5G testing in Vietnam is showing quite positive results.
According to Nguyen Phong Nha – Deputy Director of the Telecommunications Department (Ministry of Information and Communications), commercial testing is an important step before commercializing 5G networks.
The technical test is to see if the frequency use is interfered with and interferes with other telecommunication services. With 5G commercial testing, in addition to technical testing, it is time for carriers to build appropriate business models, project pricing and resource usage costs before the main 5G mobile network. licensed formula.
The report of carriers after the commercial trial will be an important premise for the Ministry of Information and Communications to complete the legal basis for the deployment of 5G mobile networks.
Trong Dat
.