According to the top 5 cloud service providers "Make in Vietnam" – CMC Telecom, there are 4 important groups of services that SMEs need to use to ensure their information technology infrastructure, creating momentum for business growth. collection in the year 2021.
Cloud Server leads the way
Depending on the type of business, for an online business oriented SME, switching to Cloud Server model instead of the previous physical server would be a smart choice.
Cloud Server Helps business owners avoid the cost of hardware procurement or the risk of data storage, while configuring according to business needs and expanding as needed in minutes.
According to CMC Telecom, the demand for "data migration" from international clouds to the country is also increasing, when the capacity of domestic providers is able to meet business needs. In early December 2020, the Ministry of Information and Communications has just announced that 5 cloud computing providers "Make in Vietnam" have met the criteria of serving e-Government. This is the basis for businesses to change their mindset and have specific standards when choosing cloud computing services.
CMC Cloud is one of 5 qualified providers to serve e-Government, meeting the standards of infrastructure, security, operation with a highly specialized management team.
Public Cloud – services on a public cloud environment
Thanks to Public Cloud, businesses no longer have to spend the cost of buying each software to install or have IT personnel for periodic updates. Microsoft 365, Google Workspace (formerly known as G-Suite) are bringing a more flexible way of working, allowing users to access and work anytime, anywhere on any device, only need Internet and electricity.
According to Microsoft's latest report on October 27, 2020, cloud computing services in the third quarter of 2020 earned $ 15.2 billion in revenue, up 31% year-on-year. In particular, Microsoft 365 for businesses continues to be the "golden chicken" with revenue up 21%.
In addition, the need to study and work remotely also facilitates the growth of Microsoft Teams. Teams currently has around 115 million daily active users – more than 50% more than half a year ago. As of March 2020, Google Workspace has reached 6 million businesses in use worldwide.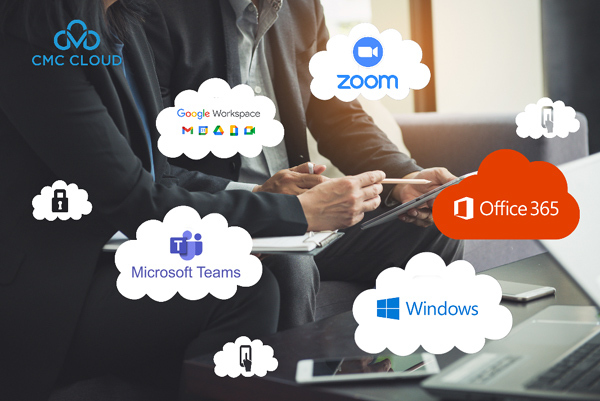 Public Cloud-based applications such as Office 365, Skype, Teams … are the first choice for businesses in building a flexible working environment.
CRM software – solutions to promote business in digital environment
Open tools in the cloud computing environment are favored by many SMEs in the world, most notably Freshworks. With reasonable prices, SMEs can choose from a variety of tools such as Freshchat, Freshdesk, Freshmaketer or Freshsales. A special feature is that Freshworks is now "Vietnameseized", capable of integrating telecommunication services (Voice & SMS of CMC Telecom), to meet the continuity of the process of customer care or business management. joint.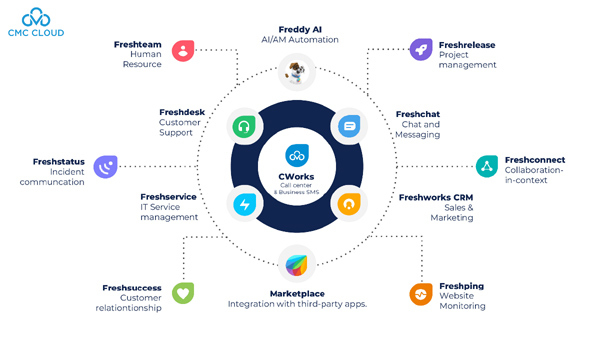 CMC Telecom cooperates with Freshworks to provide C Works solution that integrates telecommunication services into Freshworks software applications, helping to take care of customers effectively.
Voice service – ideal solution when advertising sales
With Decree 91/2020 / ND-CP on spam messages effective from October 1, 2020, businesses need to think seriously about the use of licensed voice and prefix services.
Referring to the voice usage demand of businesses from CMC Telecom, the representative of the enterprise said: "2020 is the year to witness the strong growth of Voice services in the new SME segment. For every 5 new customers, there will be 3 service options such as Voice with 710 fixed numbers, 1900/1800 or Mobile Sip Trunking service (using internet channels to connect mobile numbers) , even SMS Brandname.
The need to cut costs, manage calls and create brand identities through call numbers and text messages are the main drivers, attracting use for small and medium businesses ".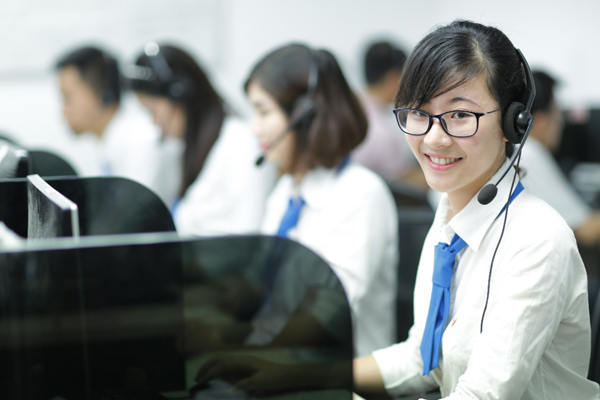 Voice service with fixed numbers helps businesses build a more professional customer support switchboard system
Choosing voice services, virtual switchboard is a useful tool for businesses of all sizes from small to medium to large enterprises. Businesses can manage their advertising campaigns from many different channels, by assigning separate phone numbers to sales staff. At the same time, businesses also know which advertisement or phone number is most likely to respond to potential customers.
(Source: CMC Telecom)
.