In the period "Vietnamese cloud" begins to dominate, the exploitation and application of software on the SaaS cloud computing environment will be the next step in the digital transformation roadmap of SMEs.
According to ReportLinker in the SaaS Global Market 2020-2030 report, the global SaaS (Software as a service) market will begin to grow strongly from 2021 and reach $ 253 million by 2023, with an annual growth rate (CAGR). up to 10%.
Mr. Le Anh Vu – Creative Director of CMC Telecom also forecasted the growth of SaaS software in 2021. He said, this is an appropriate step for SMEs when cloud infrastructure is in The country has matured, has certain achievements, along with a diverse ecosystem.
Mr. Le Anh Vu – Creative Director of CMC Telecom has an optimistic view on the growth of SaaS software, when SMEs have started exploiting these values ​​in the cloud.
According to representatives of CMC Telecom – top 5 cloud service providers "Make in Vietnam", there will be 3 SaaS solutions to attract SME business owners in 2021 to help them capture potential customers in Digital business environment, increase competition and drive sales growth.
Customer management software CRM
When the online business model is gradually replacing the traditional direct model, the management of customer information by excel is no longer suitable, giving way to CRM software.
If large corporations with abundant resources enough to pay for software from big companies such as Salesforce, Microsoft Dynamics, Zoho …, small and medium enterprises still have a variety of suitable options, including : Freshworks, Insightly, SugarCRM.
In particular, in Vietnam today, Freshworks software becomes dominated by the ability to integrate telecommunications services (Voice & SMS of CMC Telecom) into CWorks Custom App, to meet the continuity of the process. business management or customer care submission.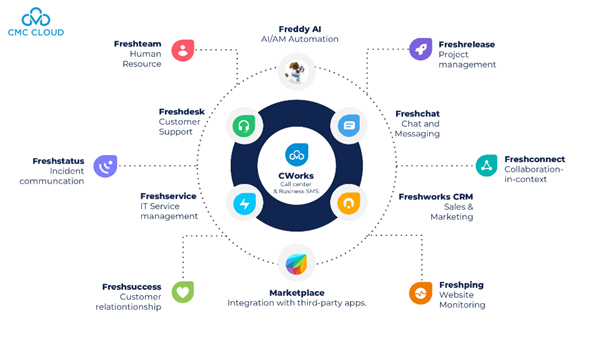 Currently CWorks Custom App is a solution developed by Freshworks and CMC Telecom
In a report shared in August 2020, Freshworks announced that their Freshdesk software has become a flagship product, doubling the ARR (Accounting Rate of Return) index of Freshworks. only in the first half year, surpassing 200 million USD.
Public cloud – office software on the public cloud
Currently businesses are no longer strangers with online applications supporting internal interactions and also professionally with customers such as Gmail, Skype, MS Teams, Word, Excel….
According to representatives of CMC Telecom, thanks to the public cloud, businesses no longer have to spend the cost of buying each software to install or have IT personnel for periodic updates.
Over the first decade, 2021 will continue to be a "sublimation" year of Office 365 and Google Workspace office applications in Vietnam, in order to create a mobile working environment, allowing employees to work. work anytime, anywhere on any device.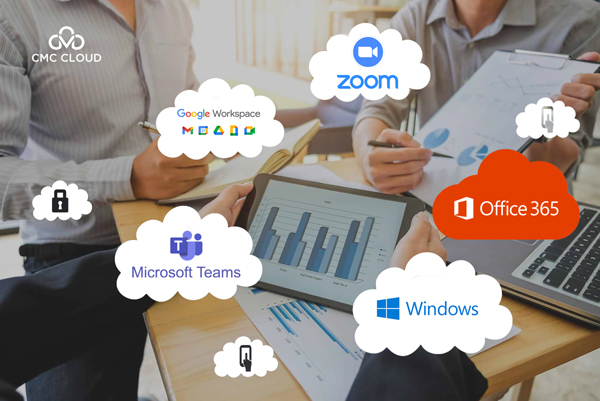 Microsoft 365, Google Workspace (formerly known as G-Suite) are bringing a new, more flexible way of working with just the Internet.
Contact center – Customer Service Center software
Representatives of Ameyo – a unit specializing in providing Contact Center solutions for BFSI businesses (banking, finance, insurance) from India said: "During the booming online business period in 2020, they I have seen many small and medium enterprises in the retail, schools, beauty and health care markets in India, Malaysia, Indonesia, Singapore … "follow" the steps of corporations. big; including building a Contact center solution to help improve customer experience and boost sales right at the Customer Care department ".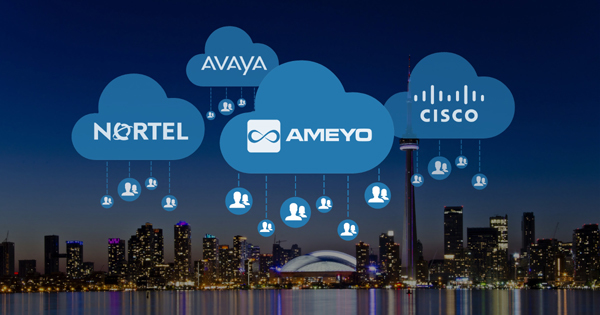 Operating Contact Center on domestic cloud infrastructure will help optimize infrastructure costs, accelerate connectivity, as well as higher availability of support.
In Vietnam, in addition to domestic contact center software, famous technology firms in the world such as Cisco, Avaya, Nortel, Siemens … Vietnamese enterprises in mid-range will have more options for contact center solutions. come from Ameyo at a reasonable cost when choosing to operate on the CMC Cloud.
To learn more about SaaS solutions, businesses can contact CMC Telecom, or access the open infrastructure ecosystem portal for businesses at: https://copen.vn.
Thuy Nga
.