Istanbul: Strong earthquake tremors were felt on Friday in the Aegean Sea between the coast of Turkey and Greece. 17 people died and more than 700 people were injured due to the earthquake. A small tsunami has also occurred in Seferisar in Izmir district, Istanbul. At the same time, at least four people have suffered minor injuries in the Samos Peninsula of Greece.
The European-Madhyasagar Seismology Center said that the earthquake initially had a magnitude of 6.9 and its epicenter was in the island of Samos in the northeast of Greece. At the same time, according to the Geological Survey of America, the intensity of the earthquake was 7.0. Turkey's Disaster Management Department said that the epicenter of the earthquake was 16.5 km down in the Aegean Sea. The earthquake has recorded a magnitude of 6.6.
Many buildings collapsed, rescue work continues
The most devastation occurred in Turkey's third largest city of Izmir. Due to the powerful earthquake, many buildings in the Izmir province of western Turkey have become demolished. There has also been some loss in the Samos of Greece. The Turkish media has shown the debris of a multi-storey building in central Izmir. Apart from this, the rescuers are also seen stationed. Photographs of smoke rising in several places in central Izmir have also been revealed.
Governor Yavuz Salim Kosgar of Izmir said that at least 70 people have been pulled out of the debris. He said that four buildings have been demolished. Apart from this, many buildings have been damaged. 38 ambulances, two ambulance helicopters and 35 rescue teams are working in Izmir. Rescue work is going on in at least 12 buildings.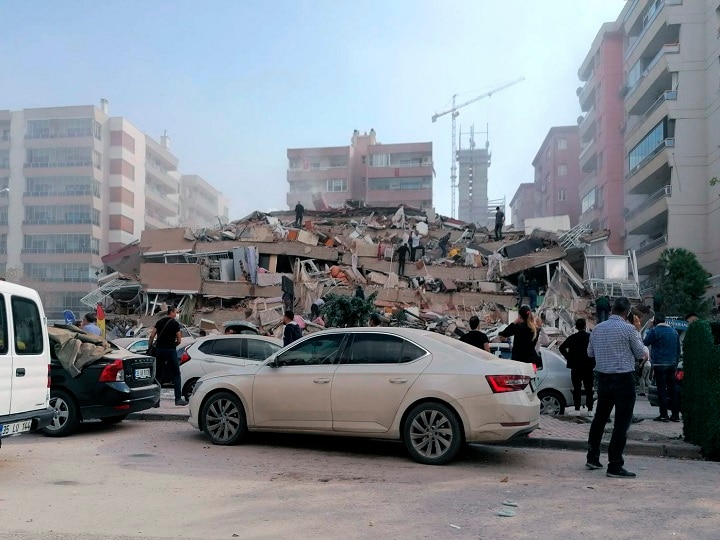 At the same time, media in Greece said that residents of Samos and other peninsulas immediately left their homes during the earthquake. Apart from this, news of a rock fall has also been found here.
There has been a strong earthquake in Turkey before
Earlier in January, more than 30 people were killed and more than 1600 people were injured in the earthquake in Turkey's Sevris. At the same time, in the year 1999, 17000 people died due to earthquake in Izmit city of Turkey.
read this also-
How terrible was the earthquake in Turkey, guess it by watching this video.
Another suspect arrested after attack in French church, demonstrations continue in Muslim countries around the world
.